How To File A Police Complaint Against A Bounced Cheque In Dubai
There are two methods in which a person can file a police complaint for a bounced cheque in Dubai. The first method involves directly visiting a police station and the second method includes filing the police complaint online. Let's explore the two options below.

Pre-registration.
Before visiting a police station, the complainant should first ascertain in which area of the city was the cheque first submitted for clearing. Accordingly, the police station in the area where the cheque was first submitted shall have jurisdiction over the complaint. For example, if a cheque deposited in a bank in The Dubai Mall is returned, then the Bur Dubai Police Station will be the relevant precinct where the complaint should be filed. 
As of January 2019, there are eleven police stations in Dubai shown in the figure below: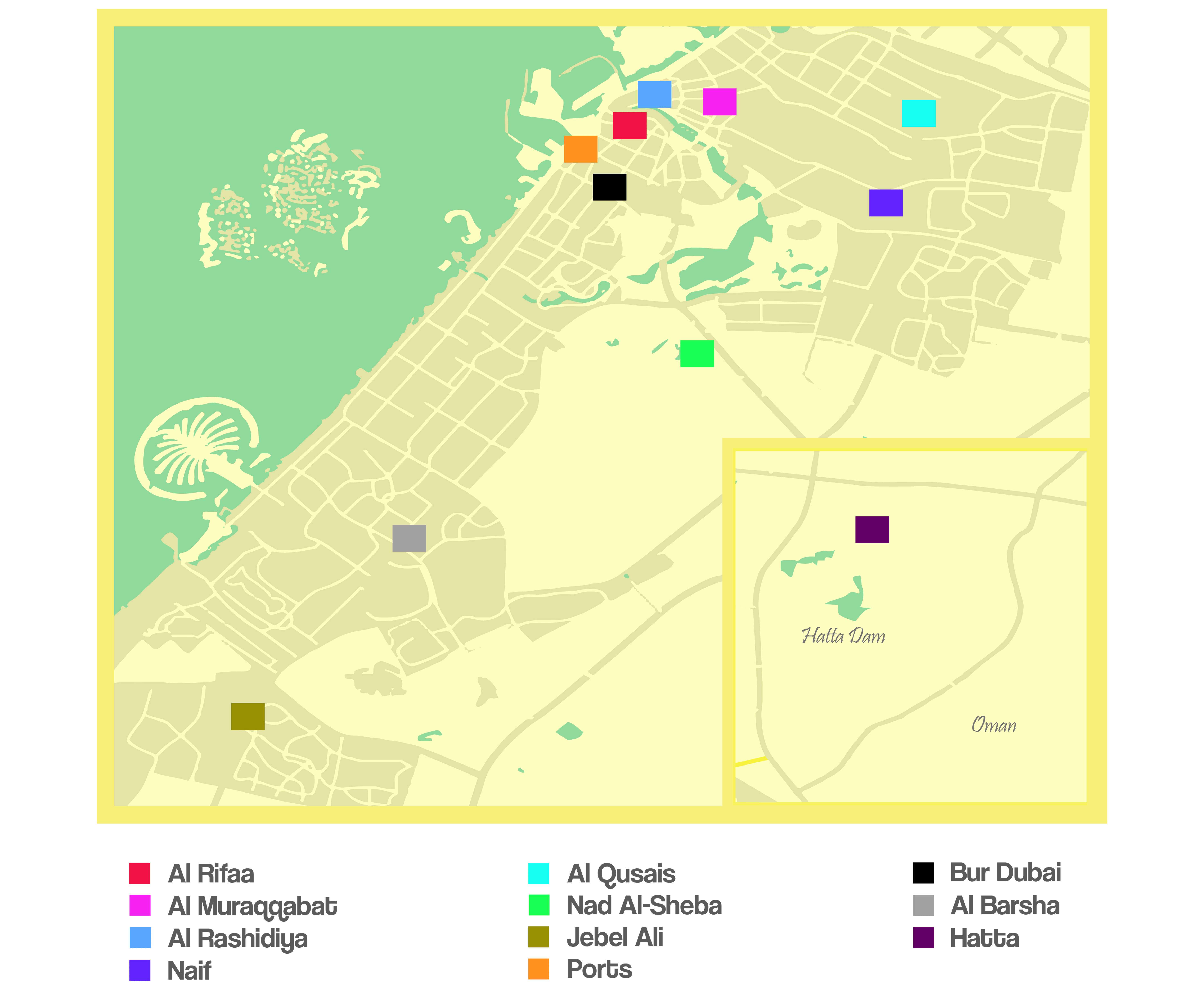 Before registering the complaint, the police will review the original cheque along with a return memo from the bank and a proof of identity. The return memo is a report provided by a bank which mentions the reason for the cheque being returned. The most common reasons for returning a cheque are insufficient funds, improper signature or closure of the account.

Once the police file the complaint, a complaint number will be issued in the form of "NUMBER/YEAR". At this point, the cheque issuer, or the counterparty in this case, will be notified by the police to come to the station for questioning. Once the police record the statements of all parties involved, they will prepare their report and the complaint will be transferred to the Public Prosecution. The Public Prosecution has exclusive jurisdiction to initiate and prosecute criminal proceedings under AED 200,000 by issuing a fine only. For cheque amounts over AED 200,000, the Public Prosecution will have to transfer the case to the criminal court for their review.

Registering a complaint for a bounced cheque in Dubai
In Dubai, one can initially file a criminal complaint for a bounced cheque without the need to visit a police station. This is made possible using the Dubai Police mobile application. The following is a brief guide on how to file the complaint on the mobile application:
Choose the "Report Bounced Cheques", you will then be redirected to a page where you will be required to fill in the following details:
Applicant's details (Emirates ID number and Email address)
Cheque Details (Bank Name, Account Number and Cheque Number)
Police Station (A branch to be chosen from the list of options given)

You will then be required to upload an image of the bounced cheque along with a brief of your complaint.
3Once the above is completed, you will receive confirmation from Dubai Police. The police will also notify you on when to visit the police station.
Upon your visit to the station, the police will require the original cheque, the return memo from the bank and proof of identity. Subsequently, the same process as stated above shall ensu